Quotes/Research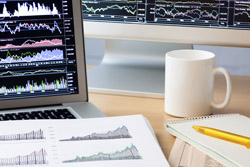 In partnership with our clearing firm, RJ O'Brien, numerous market quotation and charting packages are available for client utilization. Whether you desire real-time tick by tick data, charts, and technical indicators, or delayed data delivery, we offer various packages to address your specific needs. Clients of Byrne Investment Services, Inc. will obtain free access to RJ O' Brien's broad suite of research tools. Daily market commentary, trade recommendations, specialized research reports, weather updates, and key production reports are available to keep you abreast of changing market conditions and assist in your trade selection. Clients are able to select not only the research formatting, but also how much information, or how little, they wish to receive.
This material has been prepared by a sales or trading employee or agent of Byrne Investment Services, Inc. and is, or is in the nature of, a solicitation. There is a significant risk of loss when trading futures and options contracts. Please read our full disclaimer.
© Copyright 2001-2017 Byrne Investments, Inc. All rights reserved.

All logos, symbols and information contained on this site are the property of their respective owners and authors.